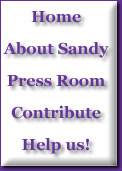 It's About Time. . .

. . .for a Change!
. . .for an Independent Commissioner!
. . .for a More Affordable Jefferson County!

Sandy needs your help!
There are lots of ways for you to support Sandy:
Your vote. . .of course!
Tell all of your friends why you support Sandy.
Host a coffee to introduce 10 to 20 of your friends to Sandy. (If it's a financial burden, let us know and we'll bring the coffee and dessert.)
Invite Sandy to your next party. She's a great guest, mingles well, and will leave on your cue.
"Take 30" and send a note to 30 of your friends, asking that they support Sandy.
Put an Elect Sandy sign in your yard or at your business.
Download and print the Elect Sandy car sign.

(84KB .pdf)

Organize a fundraiser.
Direct, hands-on campaign help is needed, too. Make phone calls, do data entry, make sure your friends are registered to vote, put up signs, walk your neighborhood with Sandy—and lots more!
Help us identify the pro-Sandy, pro-Sullivan, and undecided voters.

Want to help? E-mail Sandy at
or call her at home: 385-1087
Elect Sandy Hershelman
Lizanne Coker, Campaign Manager
Jana Daubenberger-Filli, Treasurer
P.O. Box 521
Port Hadlock, WA 98339
Home | About Sandy | Press Room | Contribute | Help us!
Sponsored by Sandy Hershelman
P.O. Box 521
Port Hadlock, WA 98339